Gincore was recently reviewed by FinancesOnline, a leading B2B software directory that preselects the best solutions for businesses, and recognized us with 2 significant industry awards: Great User Experience and Rising Star.
FinancesOnline's experts found Gincore surprisingly easy to setup and use. This advantage is doubled down by Gincore's integrated chat functionality, enabling users to avoid wasting time and fully maximize the system. Their experts also praised Gincore's highly secure data transfer functionality: "With Gincore, all you have to do is highlight all the information you want to be relocated from your old accounting system and then import the data via Excel file. All your data is safe, thanks to the most modern and reliable 128-bit encryption protocol, which totally secures your information and protect them from loss or hacking."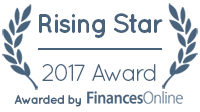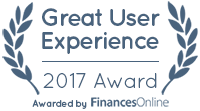 FinancesOnline's experts also highlighted how Gincore deserved their Great User Experience award for top ERP software alternatives, a distinction given to user-friendly solutions that prove effective in facilitating critical operations. Their experts said that users can rely on Gincore to streamline their tasks through its automation functionalities that not only helps double data entry but also in tasks such as prioritization and service request auditing. FinancesOnline's experts also concluded that Gincore enables users to "deliver high-quality service, eliminate warehouse and inventory management errors and issues, prevent staff fraud, and more."
This positive review paved the way for Gincore not only to secure a spot in FinancesOnline's what is ERP software guide, but also to be ascribed the prestigious Rising Star award. FinancesOnline revealed that our system has a high 100 percent user satisfaction rating, showing that computer and cellphone service centers and repair shops can truly rely on Gincore.